In March 26th, novel coronavirus pneumonia leader (commander) leader of Shenzhen municipal Party committee and leader of the new crown pneumonia prevention and control group (Wang Wei Zhong), a Shenzhen point office, was studied to investigate the epidemic prevention and control and rehabilitation work. Huang Yuanhao, founder and CEO of OBI Zhongguang, accompanied the investigation and explained. Secretary Wang Weizhong stressed that it is necessary to actively and orderly promote the resumption of work and production of enterprises, reach the production capacity and increase production, make every effort to help enterprises stabilize and secure enterprises, more accurately, timely and effectively help enterprises solve difficulties, and unswervingly promote sustained and healthy economic development.
△ Secretary Wang Weizhong investigates and serves Obi Zhongguang
During the investigation, Secretary Wang Weizhong came to Obi Zhongguang R & D office area, walked into the laboratory, watched the R & D test, listened to the performance introduction of equipment and key components, inquired in detail about the difficulties and problems faced by the operation, and coordinated the solution of the on-site office.
During the epidemic period, Obi Zhongguang established an emergency mechanism for epidemic prevention, reserved a large number of epidemic prevention materials for its employees, and publicized the epidemic prevention knowledge of all staff, so as to achieve rapid deployment and scientific epidemic prevention. It is worth mentioning that the anti epidemic robot and 3D face temperature measuring terminal equipped with Obi Zhongguang 3D sensing technology also play an important role in the war epidemic front line, boosting the application of contactless service.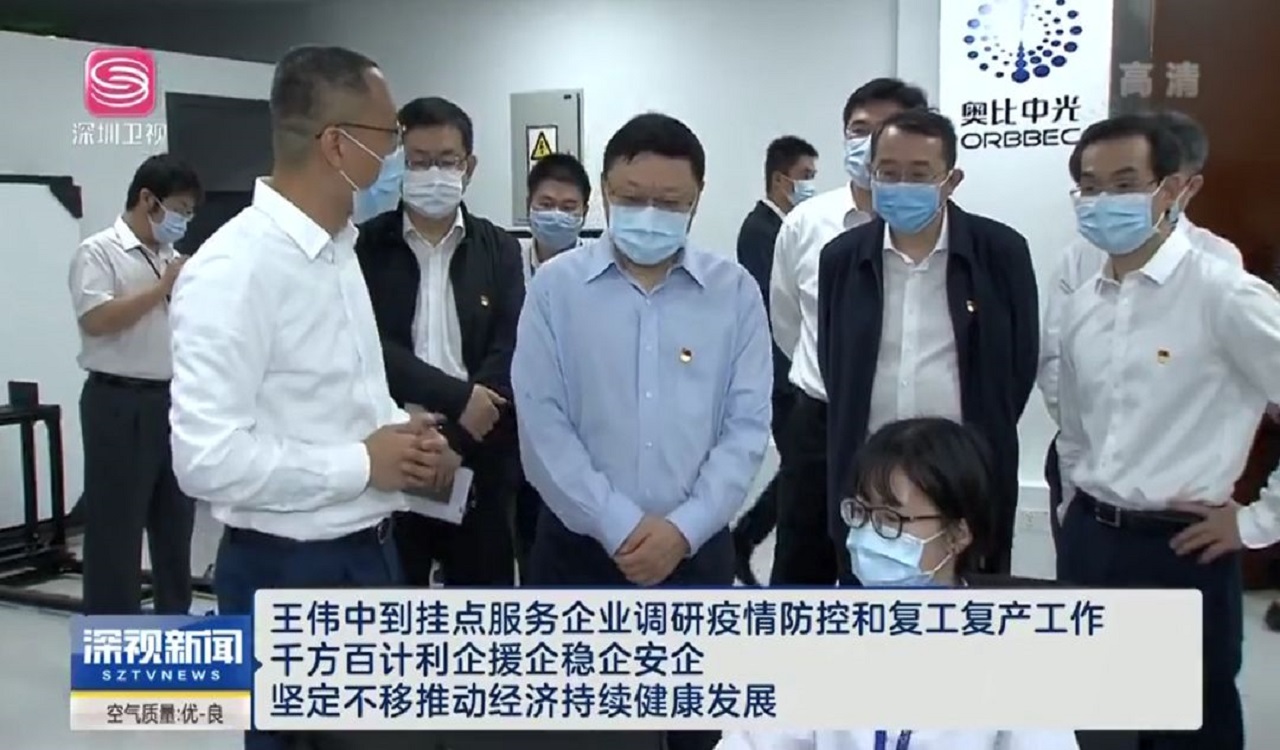 △ Secretary Wang Weizhong listens to the introduction of laboratory testing equipment

Secretary Wang Weizhong hopes that under the premise of strict implementation of various epidemic prevention measures, enterprises will increase efforts to promote R & D and production, especially focus on subdivision areas to do specialized work, vigorously promote the tackling of key technologies and key parts, do a good job in intellectual property protection, and strive to promote products to the high end of the value chain. The relevant departments at all levels should conduct research and support on the enterprise's demand for key parts and components, so as to provide strong support for enterprises to carry out technological research. We should actively link the supply and demand sides of key enterprises, build a platform for complementary cooperation, and constantly consolidate and enhance the competitiveness of Shenzhen's industrial chain.
The AI 3D visual perception technology independently developed by Obi Zhongguang enables intelligent terminals to truly perceive the outside world like human beings and obtain high-precision 3D information in real time. It is the key basic common technology of AI industry in the era of Internet of things. At present, it has spawned consumer products such as face recognition, AR / VR, and somatosensory interaction, which makes the Internet of things related industries such as intelligent hardware, intelligent cars, and so on Intelligent manufacturing and other fields are full of new vitality.
From the core algorithm, core chip to hardware, Obi Zhongguang is completely independent in research and development. At present, there are nearly 700 patent applications in the world, ranking among the top three in the industry with Microsoft and apple. Won the first prize of science and technology progress award of Guangdong Province in 2019 at the provincial science and Technology Innovation Conference held on 25th of this month.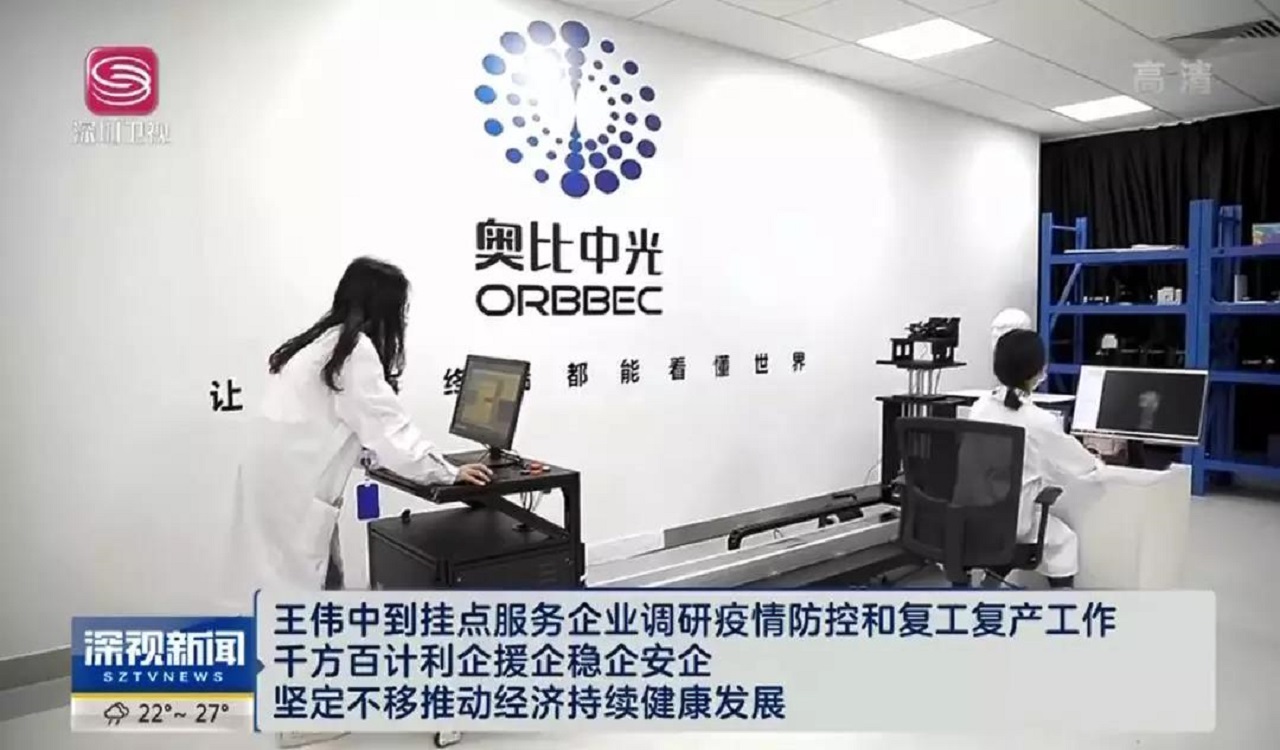 △ Obi Zhongguang laboratory test equipment

Secretary Wang Weizhong stressed that Shenzhen will be good only if the enterprise develops well. We should adhere to the principle of stabilizing the current situation and benefiting the long term, grasp the development direction of scientific and technological innovation, continuously optimize the innovation ecology, speed up the cultivation of backbone production enterprises of key parts and components around the new generation of information technology, high-end equipment manufacturing and other fields, speed up the solution of the "neck sticking" problems such as less original innovation achievements and "lack of core and core", and help and support enterprises to transform to high technology and high added value To hold the banner of Shenzhen's high-tech industry development higher and more steadily.
Huang Yuanhao introduced that AI 3D visual perception technology is a high-end interdisciplinary field, involving optics, vision, algorithm software, hardware, Internet and other fields, and the technology is extremely difficult. Obi Zhongguang is making every effort to speed up the research on key core technologies of 3D vision and promote the full stack innovation and development of "3D sensor + aiot chip + algorithm". Relying on the construction of Guangdong, Hong Kong and Macao Bay area, Obi Zhongguang will strive to build a platform enterprise, drive the rapid development of upstream and downstream industries, and give play to the demonstration influence of OBI Zhongguang as China's AI 3D vision head enterprise and global perceptual intelligence leader.
Gao Zimin and Pei Lei, leaders of Shenzhen, participated in the survey.